Management, HR and education
Our consulting activity has the aim to create positive value to the organisations by using organisational positive psychology's science and practice to increase their results.
We provide targeted solutions for company, organisation, association and school needs.
Our 20 years of experience in positive psychology gives us a unique perspective on the difficulties you may encounter, and we use scientific research to develop sustainable solutions that work for you. Our advice can include a diagnosis that allows us to conduct a qualitative and scientific study of your needs; recommendations solutions and adapted interventions to implement required change (in the form of e.g. training, workshops, tailored conferences).
How does a consultation with positran take place?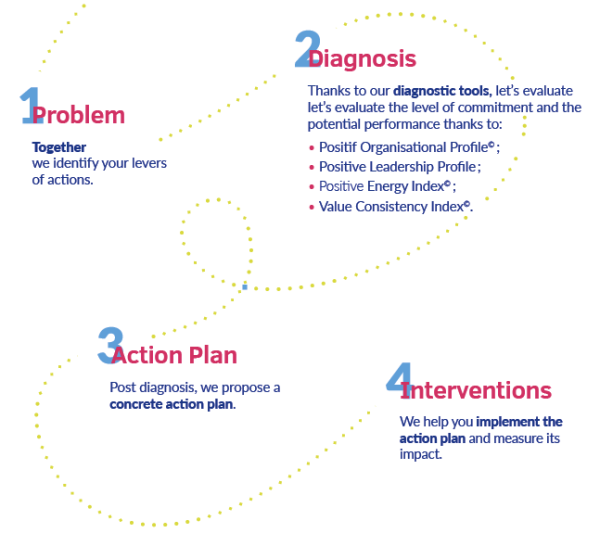 We provide targeted solutions for company, organisation, association and school needs.
Our different diagnostic tools :
•  Positive Organisational Profile©
•. Positive leadership Profile©
•. Energy Index©
•  Consistency index of values©
Each consultation, whether it lasts 10 minutes or 10 months, inevitably goes through 5 steps:
1. Needs analysis
 Through a telephone call or face to face meeting, Positran ascertains your needs and expectations.
2. Data collection and analysis
If necessary, we use one of the following 4 scientific diagnostics to gather data: Positive Organisational Profile (POP), Positive Energy Index, Values Consistency Index or Positive Leadership Profile. If a quantitative analysis is not necessary, we use qualitative questioning.
3. Feedback and proposals
We reduce a large amount of data to a small number of actionable points and present the results to you. The results allow us to work together to select the best science- based interventions.
4. Implementation
This involves setting up a detailed schedule. This can take different forms: training, product/tool development, collective and/or individual coaching. Our interventions use modern methodological approaches, such as Escape Games, Lego Serious Play, Appreciative Inquiry and Job Crafting.
5. Evaluation
We evaluate the actions implemented, organise a meeting with you to present our findings and discuss if further action should be considered.

Leading company in positive psychological training
Led by Pr. Ilona Boniwell, pioneer in Europe since 1999 and world-class expert in the field of positive psychology.
Accredited Training Company (SAS 15.000 € stakes )
Provides: training, consulting and conferences (Europe, United States, Asia, Africa)
Treats vital performance problems in companies
• High turnover
• Disengagement
• Mental health
• Decrease in productivity
Based on scientific knowledge
Scientific research findings on positive organisations :

Psychology and Positive Leadership (Kim Cameron)
Appreciative Inquiry (David Cooperrider)
Resilience (Martin Seligman)
Responds practically to real organisational problems.
With management consulting and tailor-made interventions, we have responded to the demands of many international clients. We have developed, for the Government of Dubai (Ministry of Happiness), a complete positivity kit, carried out a diagnosis of well-being and commitment at work, using our Positive Organizational Profile, for the company Saham Assistance (Morocco), created a certificate of Higher Studies in Leadership and Positive Organizational Psychology in Singapore, intervened for Mars on their strategy for employee well-being, and designed numerous specific training courses in France and around the world (Sodexo, iWips, DB&A, Centillion).